LOCATION: Louisville, Kentucky.
DESCRIPTION
This Is one of the worlds Scariest Places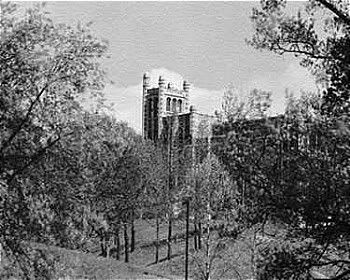 HISTORY
Unfortunately, the climate and water and land geography qualities of Louisville Kentucky offered the perfect conditions to grow the TB bacteria, which resulted in whole families coming down with this very contagious disease, which was in its heyday from 1910-1936, though it was still a threat up until the discovery of the vital antibiotic which became a formidable foe and defeated TB. This insidious disease, named the "white plague" eventually destroyed the lungs, slowly suffocating people who caught the TB bug. TB also sometimes infected bones and larynx.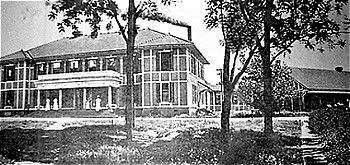 In 1910, a small 140 bed building called Waverly Hills Sanitarium was opened outside of Louisville on an isolated hilly area, where fresh air blew freely, and a caring staff tried their best to nurse the afflicted back to health.
However this "white plague" swept over the population, and by the 1920's, TB outbreaks grew, overwhelming this small facility. It is said that more people died from TB than Americans who died in WW1. It was decided that a much larger hospital dedicated to the fighting of this horror should be added to the already existing facility.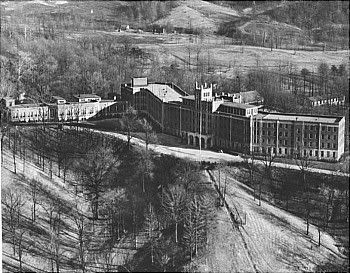 So in 1926, a five story, stone, gothic structured, 500 bed, state of the art hospital (for its time) opened, built around the needs of patients and staff in fighting this "white plague" in the search for a cure. The dedicated staff also lived in residence at the hospital, dedicating their careers to the management and defeat of the TB bacteria. A major effort was made to make the public aware of the first signs of the disease, which if caught early, the patient had a much better chance of beating it.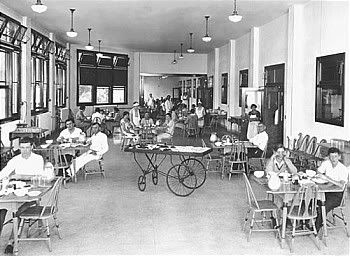 The Sanitarium was a self-contained city, offering everything a person needs. A kitchen, barber shop, laundry, dentist, library, etc., were available on site.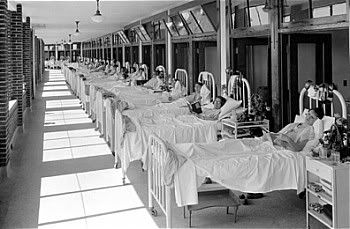 THE DEATH TUNNEL
1) How to remove all the dead who died from TB?
As not to crush the human spirit to fight the disease, the dead were not carried out in front of the other patients who still had their hope intact. A patient's mental state was an important factor in fighting the disease. Psychologically, it was thought it would be counter-productive, and the patients needed all their psychological strengths to fight their infections. Nothing like looking at a dead body of a person who lost the battle drive away in a Hearse to boost one's will to fight and survive!!!
2 How to make the corpses safe for the living?
Another problem concerning the dead; the dead bodies were thought to be still contagious because of the bacteria-filled bodily fluids.
The hospital came up with two solutions. First, the dead bodies were hung up, slit from sternum to groin area and drained of all fluids after the autopsy. The bodies were then sent by cart down an underground tunnel which ran 500 feet underground to the receiving station down the hill. The bodies were taken by the surviving family members or cremated.
THE HAUNTINGS
1) Apparitions and shadow people are common sightings on the various floors, the craft auditorium and hallway, the cafeteria.
a) A young girl in a blue dress with matted hair, no eyes who is carrying a round object has been seen as an apparition, shown up in pictures taken by photographers, and paranormal investigators. b) Another apparition of a young boy carrying a leather ball has also been seen and has shown up in pictures. He is seen with a man apparition, all on the third floor.
c) Shadow People are seen a lot in the dark hallways, in the rooms, moving down the hallways, stopping to look at the living. Sometimes they appear as full apparitions. Sometimes just a pair or two of eyeballs appear.
d) Another young boy, known as Timmy by paranormal investigators is agreeable, bold not afraid to come close.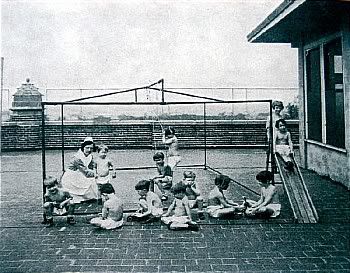 e) Apparitions have been seen looking out the windows.
2) Other Paranormal Signs
a) Investigators have found shoe and foot prints in the shower room.
b) The living feel touches, tuggings from unseen presences and being brushed by a ghost dog, pet of a transient?
c) Some people were pushed by an unseen presence, a grumpy entity who was probably a geriatric patient wanting some space.
d) People experience the feeling of being watched, not being alone in a room.
e) Freezing cold spots
f) Recorded EVPs - All interesting stuff!
ROOM 502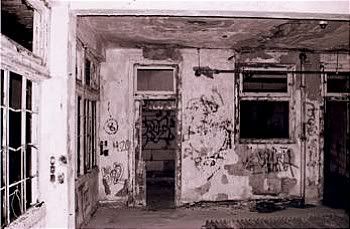 There is much in the way of speculation about this area but what is known is that mentally insane tuberculosis patients were housed on the fifth floor in these two rooms. Nurse's stations 502 and 506 looked over these two rooms in 18 hour shifts. The patients had to go to a half door at these stations to get their food and medicine or to use the restroom, which was adjacent to the nurse's station. In 1928, the head nurse in room 502 was found dead in this room. She had hanged herself from the light fixture in an apparent fit of depression. According to further research, she was 29 years-old at the time, unmarried and pregnant. It is unknown just how long she may have been left hanging in this room before her body was finally discovered. Her death was ruled a suicide by the county coroner's office. And this was not the final tragedy to occur here…
In 1932, another nurse who worked in room 502 jumped from the balcony of the roof that leads from the room and was killed when she struck the ground several stories below. We have yet to find any records that indicate why she did this act. There are also no records, despite what the legends say, that anyone other than the above mentioned nurse was ever pushed or jumped from the roof of Waverly Hills.
People have seen the full body apparition of a female nurse in white on this
floor. People have also reported that this room gives them an "unsettling" feeling of great despair.Some have heard a voice say, Get out!
All Info And Pics are form sites listed below
1.
THE OFFICIAL WAVERLY HILLS HISTORICAL SOCIETY WEBSITE
Tour info, Restoration info, History, Pictures, Staff info and a lot more
2.
TROY TAYLOR WAVERLY HILLS SITE
History, Pictures, First hand account of the hauntings
3.
WAVERLY HILLS SANITARIUM "THE HAUNTED HOSPITAL"
History, Pictures, Hauntings
4.
WAVERLY HILLS PICTURES BY MARK LEDFORD
Lots of Great Pictures
5.
GHOST-A-GO-GO !
Paranormal Investigation, Pictures, History
6.
Ghost-Investigators
Electronic Voice Phenomena From Waverly, Vidio ,Paranormal ivestigation
7.
GHOULI.COM
History, Hauntings, Investigation
8.
HAUNTED HOUSES.COM
History, Manifestations, Paranormal signs
9.
Official Waverly Hills Sanatorium/ Woodhaven Geriatric Center Memorial & Historical Resource
"WARNING GREAT SITE BUT LIKE ALL TRIPOD SITES>>POPUP HELL"
Patients, Doctors, Facts, Pictures, Surrounding Buildings
10.
WEST VIRGINA GHOST HUNTERS
History, Pictures,Video
11.
GRAVE ADDICTION
History, Pictures
Remember You Can Visit Waverly Hills For a Price
2 hour tour $20.00
4 Hour Tour $50.00
Overnight $100.00
CLICK HERE FOR INFO
TV/MOVIES FILMED AT WAVERLY HILLS
TV= The World's Scariest Places ep "Contagion of Fear: Waverly Hills Sanitarium"
Movie= DEATH TUNNEL
Director Philip Adrian Booth
Writers Christopher Saint Booth, Philip Adrian Booth
Starring Steffany Huckaby, Annie Burgstede, Kristin Novak, Jason Lasater, Melanie Lewis, Yolanda Pecoraro
Twintalk Entertainment
Movie is based on the True Stories and Hauntings of Waverly Hills Sanatorium in Louisville, Kentucky. This horrific Five story structure is listed as one of the Top Ten Scariest Places on Earth, due to the 63,000+ deaths within this monument of Terror. They were then carried through the massive Five hundred foot underground Tunnel to their final resting place. The story involves Five girls on a college initiation, dared to spend the night separately on the Five floors of this sanatorium, with the Five ghosts that exist within it's abandoned corridors. Will they make it through the night? For the only way out is through...the Death Tunnel.
THE DEATH TUNNELS OFFICAL SITE
Tags
Horror
Sanitariums
Ghost
Haunted
abandoned
horror movies